Background
For most applications, it is ideal to administer the therapeutic as an oral pill, it is cost effective to deliver and overall patients seem to prefer this method.
However, many therapeutics cannot be administered orally due to how the body absorbs and metabolizes them which can result in too low of a bioavailability.
MatTek and Visikol have developed an in vitro model system specifically for this purpose.
The model combines the MatTek EpiIntestinal™ model with the Visikol HUREL® micro liver model to create a two-organ system for quantifying first pass metabolism.
This model combines two of the most well validated in vitro model systems in the entire space together to form a unique organ system on a plate which provides researchers with a tool to assess the optimal route for therapeutic administration.
Visikol is now offering this First Pass Metabolism Model to clients as part of its comprehensive contract research services to assess the metabolism of potential therapeutics.
Cell Culture Inserts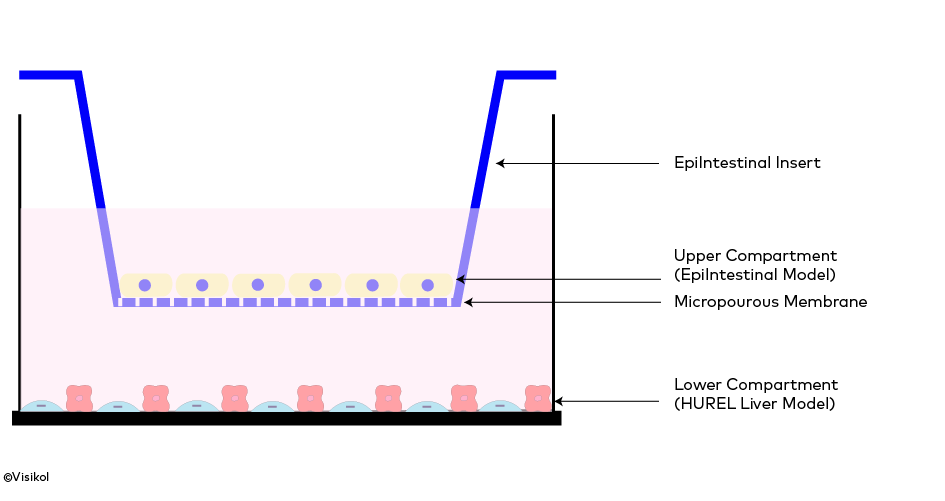 MatTek Multi-Well Plates
The First Pass Metabolism Model uses MatTek 96-well glass bottom dishes. These dishes have a gas plasma treatment and collagen coating surface modification on the bottom plate.
Experimental Methods
Culture System

Human Intestine (control): MatTek 96w
Human Intestine/Liver (first pass metabolism model): HUREL micro liver

Method

Used MatTek 96 transwell plate for the Intestine/Liver cell culture
-Bottom plate: surface treatment and collagen Type I coating
Dosing volume:
-Upper compartment: 100 ul dosing compounds
-Lower compartment: 300 ul dosing media (HUREL)
Time points: t=24hr
Replicate: n=3

Assay

Drug Metabolism
Drug Clearance (5 uM)
Drug Permeability (10 uM)
Drug Inflammation
TEER Measurement

Analysis
Drug Metabolism: Cytochrome P450 enzymes
Significantly higher metabolite formation in the First-Pass Metabolism Model as shown by CYP3A4, CYP2D6, CYP1A2 and CYP2C9 activity as well as Phase II metabolism.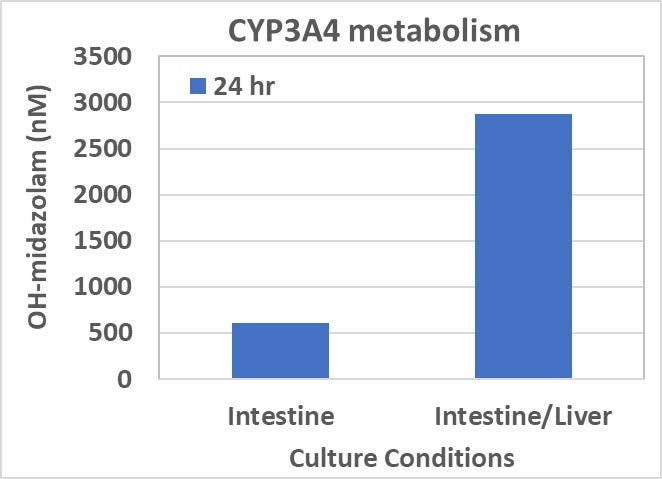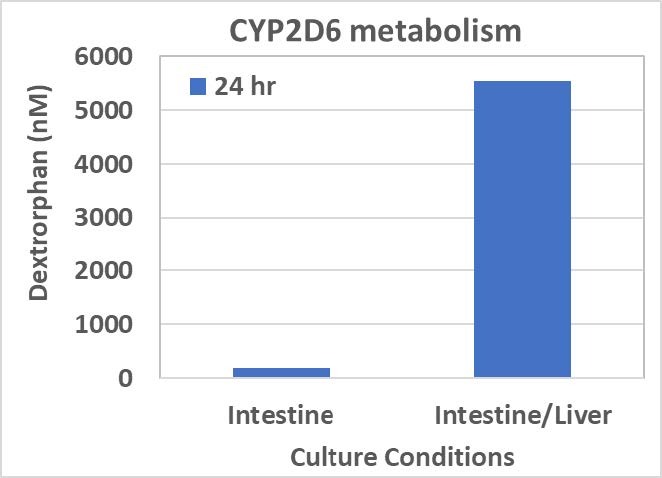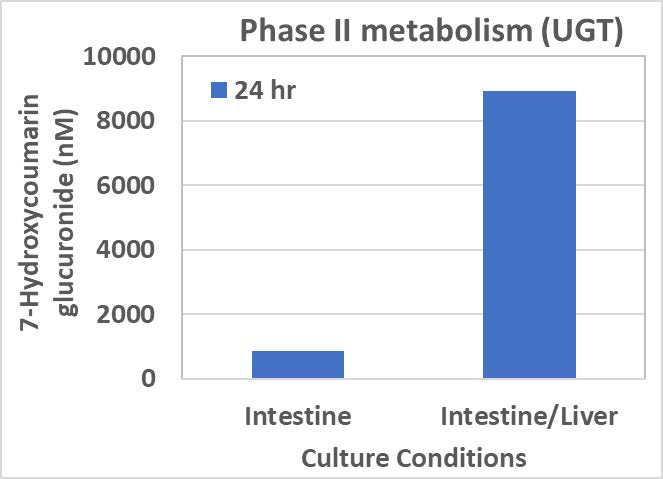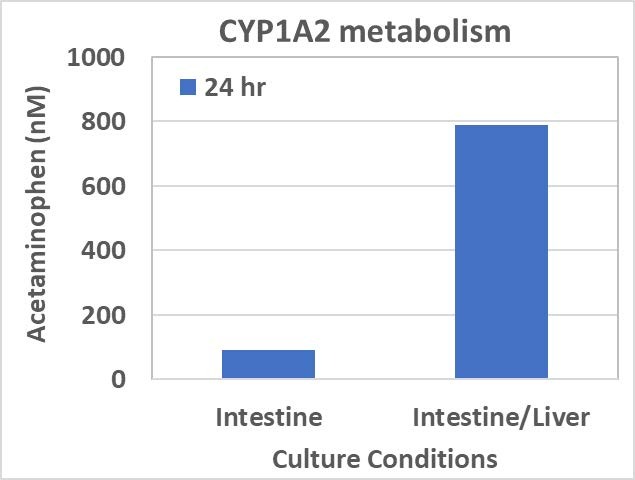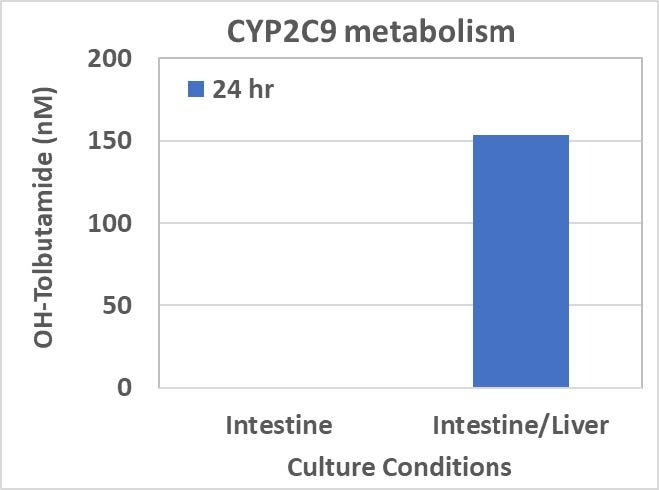 Drug Clearance/Bioavailability
Higher clearance (lower bioavailability) of drugs in first pass metabolism model as demonstrated by Bupropion, Verapamil, Diazepam, Repaglidine, Dextromethorphan and Troglitazone.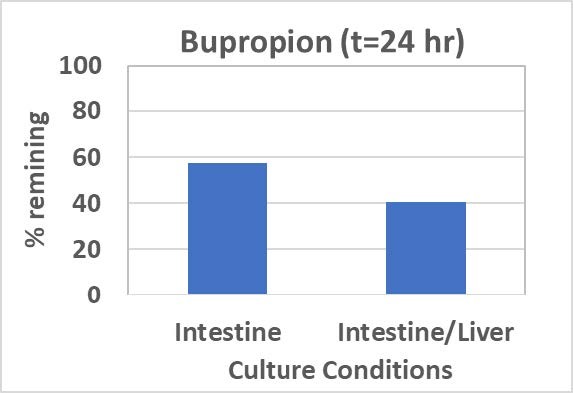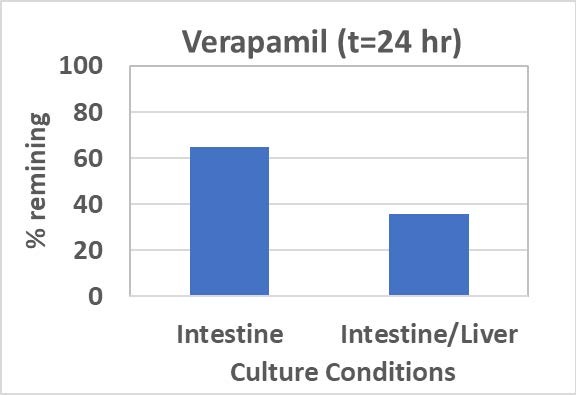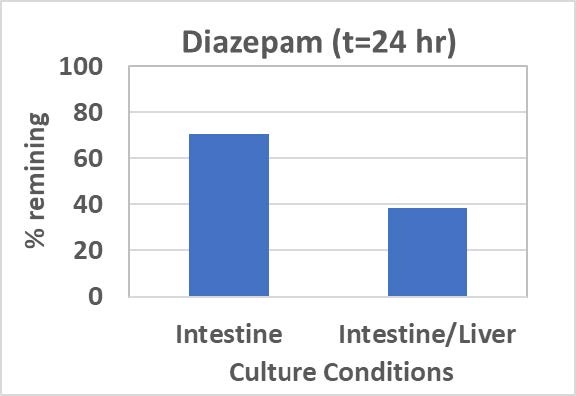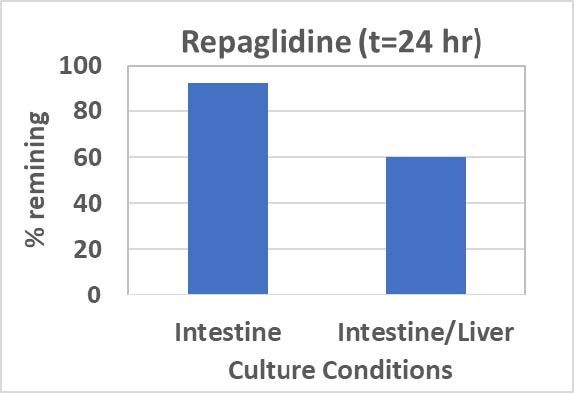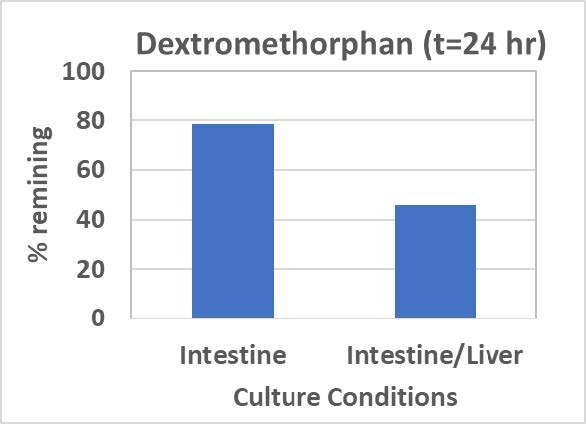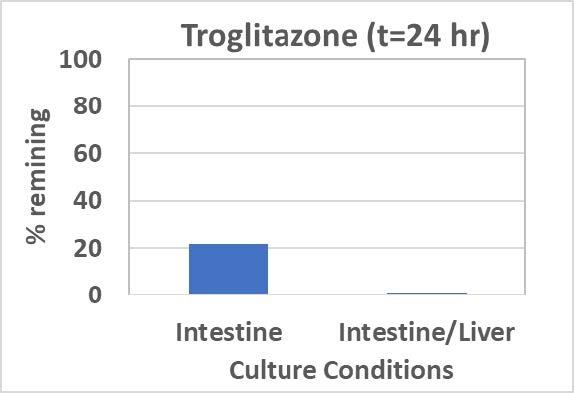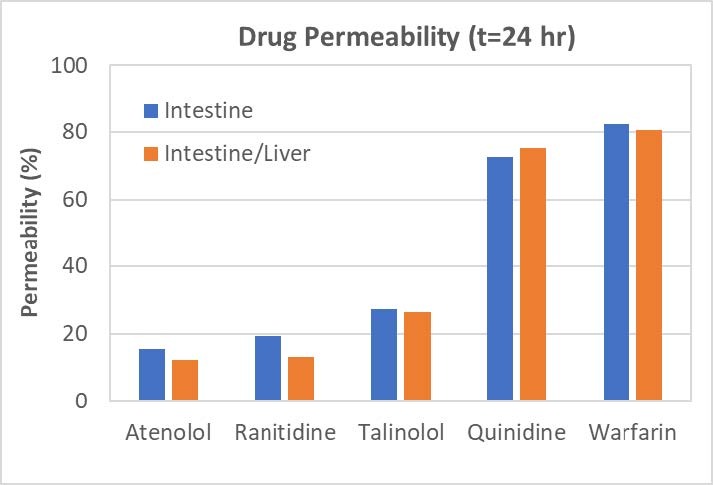 Highly Permeable Compounds:
Poorly Permeable Compounds:
Atenolol
Ranitidine
Talinolol
TEER (transendothelial electrical resistance) Measurement
Intestine tissue on the multi-well plate membrane maintains good integrity and permeability.