Primary Hepatocyte Micro Livers
Visikol recently acquired the best-in-class HUREL portfolio of patented liver 2D co-culture models which are now sold under the Visikol brand as products and leveraged in the Visikol portfolio of services. These models provide researchers with an incredibly well validated and phenotypically stable primary hepatocyte model for assessing the toxicity and clearance of their compounds.
Visikol provides its clients and customers access to twelve different HUREL micro liver models representing ten different mammalian species. This diversity of models allows researchers to evaluate a wide-range of research questions.  These models combine primary hepatocytes with cells of non-parenchymal stromal type in a two dimensional format in 6, 12, 24, 48, 96 or 384 well plates.
The HUREL micro livers' patent-pending, specially engineered packaging maintains 25˚C – 37˚C during travel to any destination world-wide, and keeps the cells ready for immediate, plug-and-play use after a brief, 4-hour media refreshment upon arrival.  No tissue culture or multi-day reacclimatization is required.  Shipping "warm" preserves the microlivers' phenotype and high, stable, long-enduring metabolic competency.
HUREL micro livers are self-assembling co-cultures (SACCs) of primary cryopreserved hepatocytes combined with a non-parenchymal (stromal) cell line.  The hepatocytes spontaneously self-assemble into colonies.  This patented form of liver cell culture has been demonstrated, in peer-reviewed studies, to produce the longest-enduring, phenotypically most stable, metabolically most competent of any liver tissue construct developed in the world to date.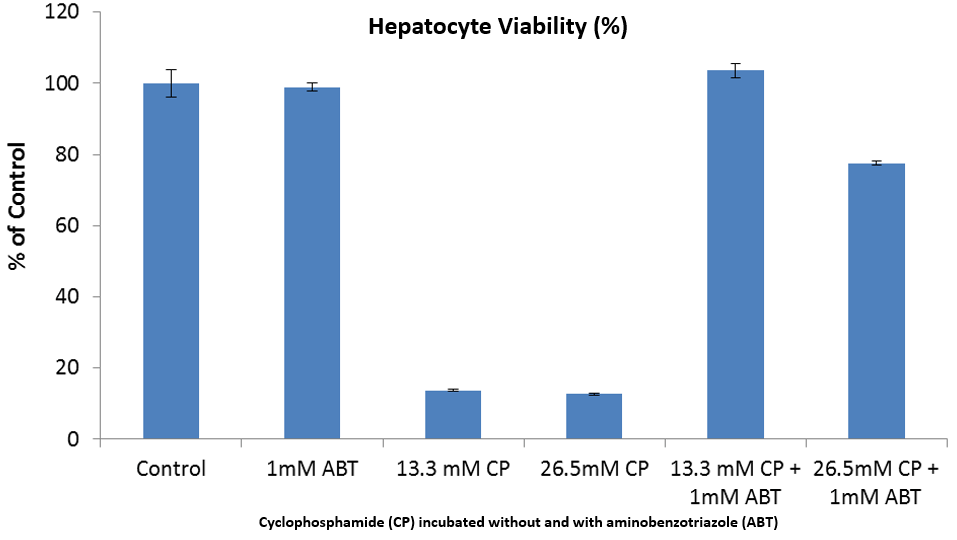 The HUREL micro liver's superior metabolic competency, derived in part from their multi-fold greater hepatocyte number and therefore greater cell density within the microtiter well, is the characteristic most centrally responsible for HUREL's delivering data of superior translational predictivity—data that is more "human relevant"—compared to data generated on 3D, micropatterned, or other cell-based liver tissue constructs.  In cytotoxicity and hepatotoxicity testing, HUREL's superior ability to generate reactive metabolites (as exemplified by HUREL's viability after exposure to a hepatotoxicant alkylating antineoplastic agent incubated in the absence and the presence, respectively, of broad cytochrome p450 inhibitor aminobenzotriazole) is the primary factor responsible for elevating HUREL's predictive sensitivity and accuracy of those demonstrated by other platforms.
Analysis of Host Responses to Hepatitis B and Delta Viral Infections in a Micro-scalable Hepatic Co-culture System
Peer-reviewed studies have demonstrated HUREL's gene expression to be for all practical purposes immutable for periods of 30 days and longer.  Rock-solid, long-enduring phenotypic stability creates the foundation for the superior metabolic competency that distinguishes data generated on the HUREL platform from that of primary hepatocytes cultured in suspension, in monoculture, in micropatterned arrays, and in 3D spheroids.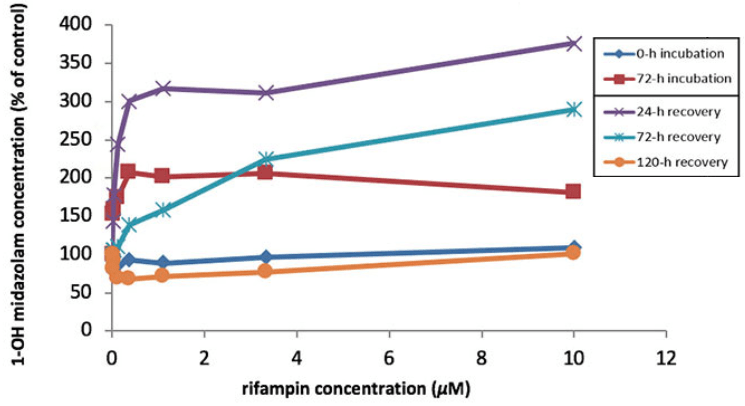 Time and concentration dependent induction: rifampin (CYP 3A4 inducer through PXR activation), FDA approved sedative.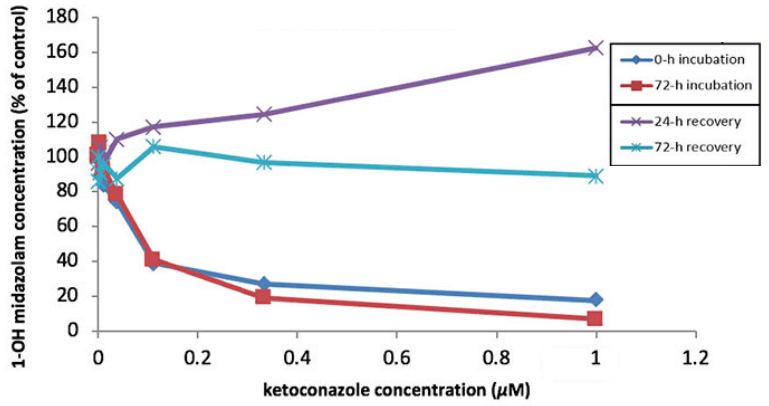 Time and concentration dependent inhibition: antifungal (potent CYP 3A4 inhibitor), FDA approved sedative.
In the above pair of experiments, HUREL Human™ micro livers were exposed to an FDA approved sedative in the presence of, respectively, CYP 3A4 inducer rifampin and CYP 3A4 potent inhibitor anti fungal, which were repeat-administered every 24 hours for 72 hours.  As measured by FDA approved sedative formation, the micro livers demonstrated time- and concentration-dependent induction and inhibition of enzyme activity.   Exposure to FDA approved sedative was continued at 24-hour intervals after administration of rifampin and anti fungal had ceased.  The micro livers demonstrated a return to basal enzyme activity in a time-dependent manner, illustrating the dynamic responsiveness and resilience of the HUREL micro liver model metabolic competency.
Peer Reviewed and Validated
The HUREL micro liver models have been used in dozens of publications to date by the world's leading pharmaceutical companies and are integral to services at many contract research organizations.
Other Primary Hepatocyte Co-Culture Micro Livers
Product Format
HUREL hepatic co-culture plates are shipped in a uniquely designed configuration to ensure temperature control and leakage prevention for the duration of shipment. Each package contains the following:
PlatinumHeps™ maintenance media (serum-containing media): 65ml per plate
PlatinumHeps™ dosing media (serum-free media): 65ml per plate
HUREL co-culture plates, Replacement lids, Unpacking & Maintenance Protocol, HUREL product specifications, COA lot information
Temperature recorder (disposable): 1) Connect the temp recorder to PC USB port, 2) Go to the USB drive and find the pdf output file, 3) Email the pdf output file to info@visikol.com
HUREL® Flux™ Kit
HUREL® Flux™ is a single-well, direct-measure biliary efflux assay kit, and is now available in a complete, plug-and-ply kit that arrives at your lab ready for immediate use. The kit features HUREL's high-functioning, stable, long-enduring, patented hepatic co-cultures which allows for direct – and accurate – measurement of a compound's biliary disposition from a single well of cells using HUREL's proprietary method. HUREL® Flux™ is convenient, cost-effective and available in a variety of species including human, monkey, dog, and rat.