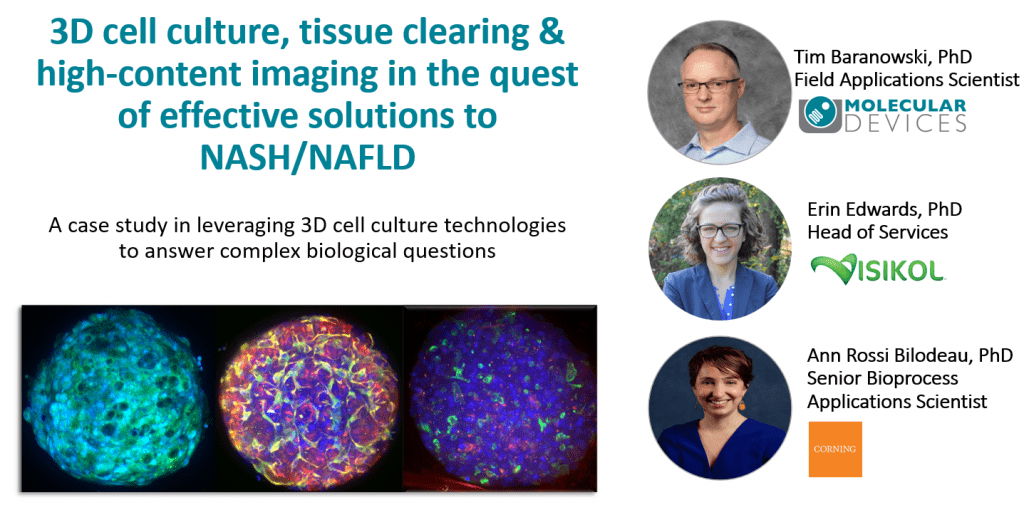 Did you miss our NASH 3D cell culture webinar with Corning and Molecular Devices on October 14th? If yes, it is now available on our website. You can learn more about designing an end-to-end NASH assay and how best to characterize 3D cell culture models in their entirety.
The webinar was hosted by Tim Baranowski, PhD of Molecular Devices, Erin Edwards, PhD of Visikol, and Ann Rossi Bilodeau, PhD of Corning. Along with characterizing 3D cell culture models, the trio covered:
• Increasing assay sensitivity and viability using Primary Human Hepatocytes (PHH) pre-qualified for spheroid formation
• Applying tissue clearing techniques to fully characterize 3D cell culture models in a single workflow
• Utilizing water immersion objectives and targeted acquisition with confocal imaging to fully characterize 3D fibrosis models in a high-throughput manner
• Performing 3D volumetric analysis and other custom analyses for unique feature extraction and quantification
The methods mentioned in the webinar are targeted towards integration of novel 3D cell culture, tissue clearing, and high-content imaging techniques to better identify therapeutic solutions to NASH/NAFLD.
This case study is useful for anyone interested in learning more about 3D cell culture models and how they can be used to answer complex biological questions. Reach out today to learn how Visikol can help your NASH/NAFLD study.