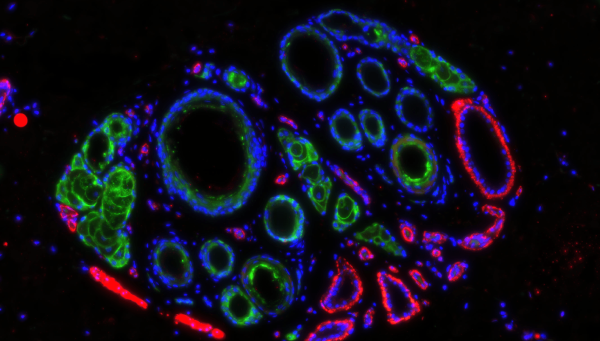 The realm of 3D cell models has grown exponentially in a short period of time, gaining traction with researchers due to their dynamic and complex nature. Visikol is a leader in the cell culture industry, utilizing robust 3D models to evaluate the functioning of major organ systems in both healthy and diseased states. One highly useful model, the spheroid, has recently been used to study the largest organ in the human body – the skin. Specific proteins, such as carnosine, have been shown to prevent the visible signs of aging and damage related to UV exposure, and 3D models prove to be a useful tool for in-depth tissue characterization.
Skin cancer related to UV damage is a commonly encountered concern today but understanding our skin in its healthy state is a fundamental step toward identifying effective treatments.
In a recent publication entitled, "Oxidative Stress Modulation by Carnosine in Scaffold Free Human Dermis Spheroids Model: A Proteomic Study," researchers investigated the mechanism of action of carnosine – an endogenous β-alanyl-L-histidine dipeptide – on human skin proteome. Carnosine is a known antioxidant and carbonyl scavenger, making it a strong defender against aging of the skin. In this study, a spheroid model was adopted from human dermal fibroblasts and combined with high-resolution mass spectrometry to characterize the protein expression during long-term culture upon carnosine treatment. At 14 days of culture, with 7 days of culture time as a benchmark, carnosine was found to activate the functionality of mitochondria – specifically the upregulation of functional modules related to oxidative stress. To evaluate localization and modification during culture time, immunofluorescence for collagen type III was analyzed with the help of Visikol's Histo-M Starter Kit®. Upon tissue clearing and signal quantification, proteins were extracted and analyzed via high-resolution LC-MS/MS, then statistically evaluated.
Overall, 3D models are highly phenotypically relevant to human tissues in a way that can advance science toward a more complete approach to combating disease. The diverse range of products and services Visikol has to offer can pave the way for personalized care therapies and beyond. Please reach out to explore what Visikol can do for you.