Shift the paradigm of tissue imaging from 2D to 3D
Traditionally, tissues have been characterized through the use of embedding, sectioning, staining and traditional brightfield microscopy. While this paradigm has been the gold standard for histological examination, it limits analysis to small subregions of tissue, and falls short for the analysis of heterogeneous and complex tissues, such as tumors or brain tissue. For example, a complex three-dimensional feature such as vasculature is highly challenging to evaluate using the traditional two-dimensional histological approach.
At Visikol, we leverage fluorescent probes and immunolabeling with our patented Visikol® HISTO™ tissue clearing approach, and by utilizing confocal microscopy or light sheet imaging, we can image thick tissue specimens in 3D. This allows us to capture the entire population of cells throughout the depth of a tissue instead of being limited to thin two-dimensional sections. The ability to image tissues in 3D allows us to ask and answer novel research questions and is especially useful in neuroscience, cancer biology, and the study of organ systems whose structure is complex.
We offer tissue imaging services to clients in several formats. Clients can send us fixed tissues for labeling and imaging or send us labeled tissues for imaging. Furthermore, we offer image analysis services for clients who have already obtained image datasets.
Solutions for every application
We work closely with our Clients to determine the ideal imaging approach to answer their research question in order to minimize cost and maximize throughput. While it would be ideal to image tissues in 3D in high resolution, this approach does not necessarily improve the ability to answer a specific research question. Therefore, we take an active role with our Clients to help design an approach that will answer their research questions at highest throughput and lowest cost.
We have worked on a wide range of projects for our Clients. We are agnostic in our approach — we can use many different types of imaging modalities, staining techniques, tissue clearing procedures and tissue types. We see ourselves as an extension of our Client's research team and work with our Clients to design a robust and effective research approach.
Experts in 3D imaging
At Visikol, we provide end-to-end 3D tissue imaging services inclusive of tissue processing, labeling, imaging, image analysis and reporting. We were the first company to offer 3D tissue imaging services to Clients and currently provide confocal microscopy and light sheet imaging to our Clients depending on the type of research question and desired endpoints. We can accommodate whole organ labeling and imaging, however we find that the most optimal approach for most research questions is to cut tissues into approx. 1-2 mm thick pieces for processing and imaging and then to conduct imaging with high content automated confocal microscopy, and, if needed, stitching the images from individual sections back together digitally. This minimizes labeling and imaging time, lowering costs for our clients.
We deliver data via hard-drive or the cloud, depending on the preferences of our clients. Typically, the 3D data sets that we generate are enormous (100s of gigabytes) and unless a researcher is equipped with image analysis tools designed for 3D image analysis, and the appropriate computer hardware, the analysis can be quite challenging. We use our 3Screen™ image analysis platform, specifically built for large 3D datasets, to analyze this data, and we deliver actionable, easy-to-digest reports.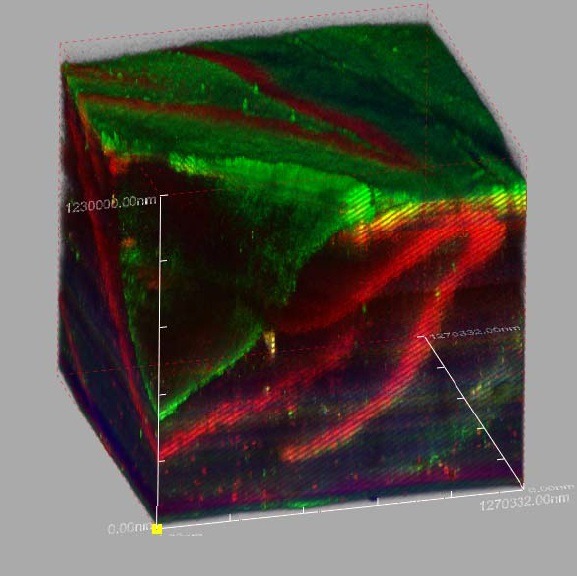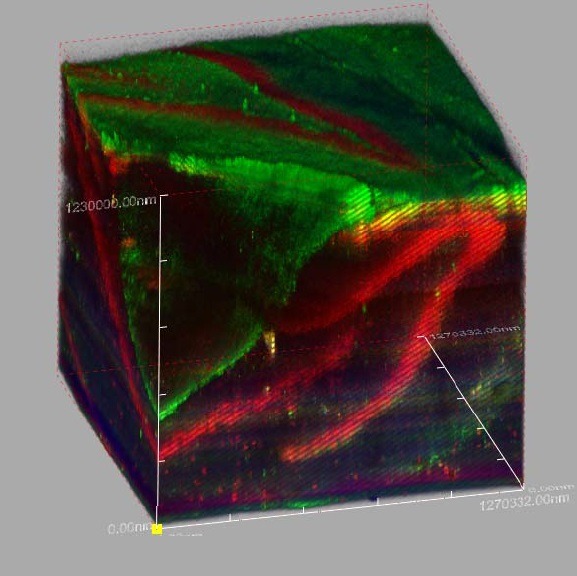 NeuN (red), ch‐Calr (green), DAPI (blue)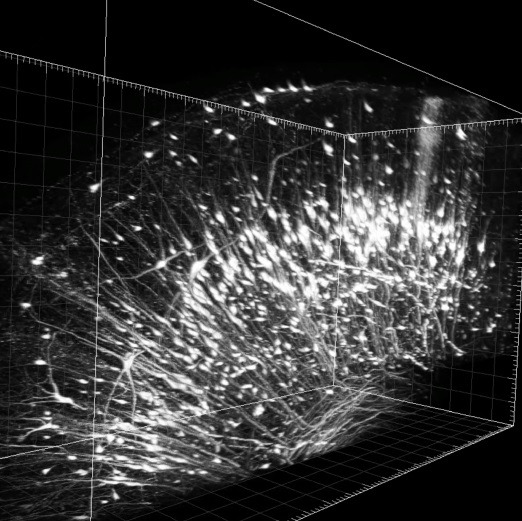 Snow owl visual cortex neurons labeled with rhodamine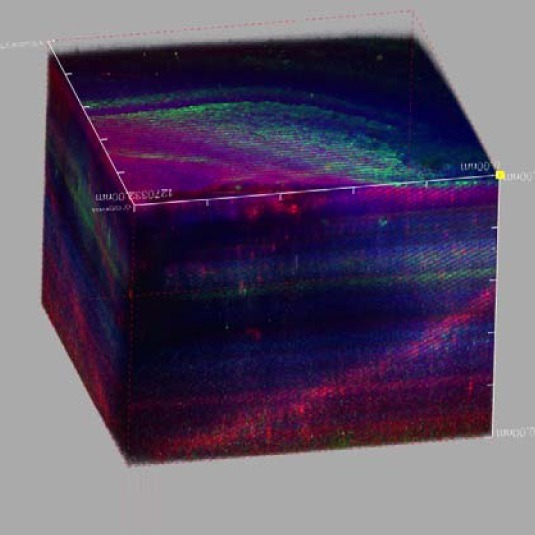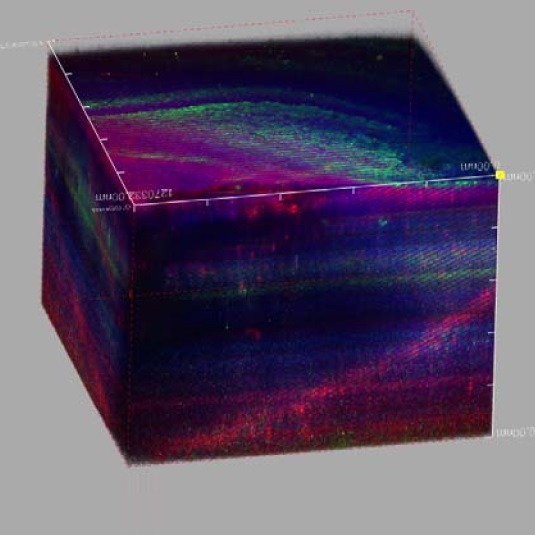 cFos (red), NFH‐AH1 (green), DAPI (blue)