The success of in vitro assays in drug discovery and development is critically dependent on the quality of the materials used in the assay, and cell model is no exception. Cell type, cell source, and culture process must each be carefully considered in order to balance cost, throughput, and in vivo relevancy. At Visikol, we have extensive experience in developing and validating 2D and 3D cell culture models to study a range of physiological and pathophysiological processes with an aim on improving the efficiency and efficacy of drug discovery.
Cell model considerations: 2D vs 3D
While traditional 2D cell culture offers a high throughput approach to in vitro screening and may be appropriate for early phases of drug development, 3D cell culture models have gained traction over the last few years for their improved ability to recapitulate the native tissue environment. Cell-cell and cell-extracellular matrix interactions, which cannot be adequately mimicked in traditional 2D cell culture can be crucial to the expression of key proteins, including drug targets. At Visikol, we partner closely with pharmaceutical companies to not only develop appropriate models that meet our Clients' cost and throughput requirements, but we also take care to ensure all models meet the specific validation requirements of the project. By conducting a head-to-head comparison of 2D versus 3D models, we can ensure not just the success of the assay at hand, but also inform the design of future studies.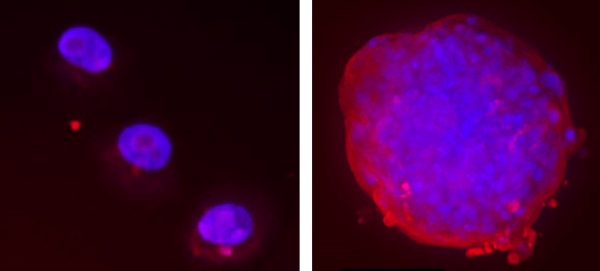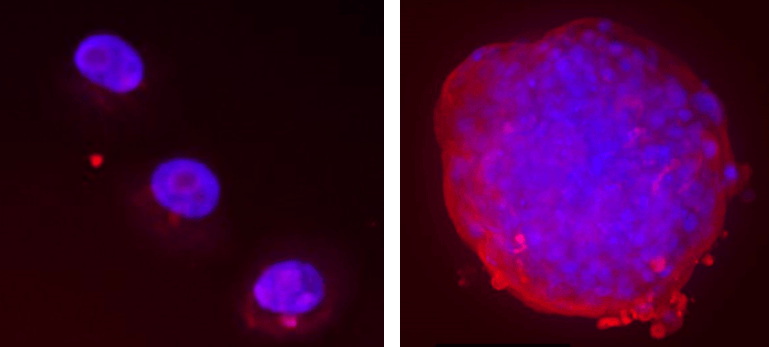 Estrogen receptor expression in Wood cells (Cellaria Biosciences) cultured via standard 2D approaches (left) or in 3D spheroids (right).
Cell model considerations: cell source
Defining the cell subtype and source can be critical to the manifestation of specific pathologic features of interest, particularly when those features are the target of therapeutic design. In some cases, well established cell lines may be available for therapeutic evaluation, offering a simplistic, more well-defined source material. Often times not only have such cell lines been validated for the spheroid-forming capacity, but extensive literature is typically available detailing the genetic profile, key applications, and any limitations to implementation of the immortalized line in question in comparison to primary cell lines. At Visikol, we have expertise in evaluating available cell lines for the appropriateness of their implementation in our Clients assays.
In some cases, immortalized cell lines may present limitations insofar as their ability to recapitulate a desired physiological or pathophysiological profile. In other scenarios, cell lines do not offer the patient-to-patient variability that can be necessary to ensuring the robustness of a therapeutic approach. In such cases, Visikol is able to leverage long-standing relationships with primary cell and tissue banks and stem cell sources to procure high quality cells that meet the validation criteria of the project.
Our approach to model development and validation
At Visikol, don't believe in a "one size fits all" approach to designing a model for a particular project. Instead, we work closely with our Clients to understand their needs and carefully select cell type, cell source, and culture protocols that yield the most appropriate model for the research question. By keeping the Client's specific study goals as the center-point of our model development efforts, we ensure that the throughput and validation requirements are met while minimizing the overall cost of the study to the Client.
How to get started
Our team has a demonstrated expertise in developing cell line-, primary cell-, and stem cell-derived 2D and 3D cell culture models. Most model development projects begin with a complementary consultation phone call in which we work to understand the cost, throughput, and validation requirements of our Client's project. From there, many custom model development projects can take as little as 3-4 weeks, depending on availability of source material. For more complex, higher-risk projects, model development work can be staged in a pilot project for the evaluation of study feasibility. Contact a member of our team today to learn more about the custom model development process.