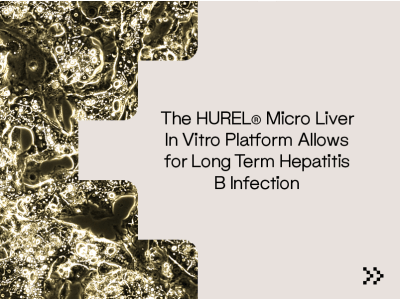 The HUREL® Micro Liver primary hepatocyte model is not just beneficial for studying drug-induced liver injury or dug metabolism but also experiments involving high throughput analysis with uniform cell infection. The ability of these models to support persistent infection in a cell culture unlocks the ability for researchers to measure viral infections in a scalable and reproducible format.
Within a recent study, the HUREL® Micro Liver platform was utilized to look at long term Hepatitis B infection. To measure susceptibility to HBV, the HUREL® Micro Liver primary hepatocyte model was plated and exposed to differing amounts of culture-derived HBV. The optimum time determined to infect cells was 7-10 days post-plating, but cells remained viable to infection up to 20 days post-plating. Cells infected 20 days post-plating experienced decreased HBsAg secretion compared to all other days tested. HBV-infected HUREL® Micro Livers were more robust and lasted up to 30 days without the need for inhibition of Janus kinase-dependent signaling.
To determine the scalability of the hepatocytes for experiments, a 24-well plate with established HBV infection was transported into a 96 microwell plate and exposed to HBVCCC 10 days after infection. An increase in HBV DNA in the wells indicated a stable plate of infected cells that could be used for high throughput screening.
Other experiments were tested on the HUREL® Micro Liver platform that helped demonstrate its viability as a cell model for drug testing. Using a peptide from the bile acid transporter NTCP which HBV utilized to enter hepatocytes, researchers were able to use the first 48 amino acids of an HBV surface antigen to block cell infection. Also, researchers used the hepatocyte model to test molecules known to inhibit TDP2 production. TDP2 is a crucial protein in the formation of cccDNA in HBV infected cells. The two small molecules tested (JK-3-121 and SV-F-153) were used in an assay for TDP2 activity on a synthetic substrate (methylumbelliferone). The synthetic substrate was attached to the 5' end of a 14-mer DNA corresponding to the 5' end of duck HBV DNA. When uninhibited, the assay releases fluorescent methylumbelliferone, indicating the presence of TDP2; when inhibited by the addition of JK-3-121 or SV-F-153 fluorescence drops, indicating a decrease in TDP2 and ultimately, the efficacy of these compounds at inhibiting TDP2.
If you are interested in learning more about the HUREL® Micro Liver platform or discussing Visikol's liver cell culture assays in more detail, please reach out to our team today.