Cellular toxicity is a major problem and can result in organ dysfunction and cause many severe health problems. Various studies have shown that toxicants, toxic substances in the environment, may stimulate the over production of nitric oxide, reactive oxygen species, and the subsequent oxidative stress which leads to death in cells. The cytotoxicity of drugs leads to mitochondrial dysfunction and, subsequently, oxidative stress which has been recognized as a contributing factor in further cell death. Pharmaceuticals can sometimes cause damaged DNA which will also lead to cellular toxicity.
Recently, it was seen that the significance of nanoparticle induced cell toxicity is a major problem. Nanoparticles are molecules that can be found in sunscreens, glasses, paint, and fabric but can also be developed into new pharmaceuticals. There are various mechanisms that are caused by nanoparticle induced cytotoxicity such as inflammation, oxidative stress, and DNA damage. It is possible to test for autophagy, cytokines, and miRNA specifically for cytotoxicity which allows opportunities to understand this and to work toward further disease treatment and drug side effect prevention.
Visikol has been an expert in 2D and 3D in vitro assays, one of which is finding the IC50 of compounds and test articles for clients. This is extremely important because the IC50 can determine if the effects of a compound are extremely toxic and what concentrations are best when working with cell based assays.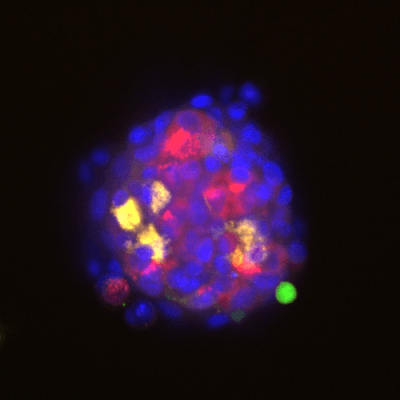 Another available assay to assess the cytotoxicity of compounds includes, the LDH assay. Media is samples from the cell cultures and analyzed with an assay to detect Lactate Dehydrogenase. This particular enzyme is released during cell death when the cell membrane is damaged. If there is an increase in LDH then there is an increase in cell death. Visikol offers cell viability quantification via higher throughput endpoints such as MTT assays and CellTiter Glow as endpoint analysis as a follow-up to or alternative for the LDH assay. Both of these assays lyse the live cells to give a reading on the number of cells in culture at the timepoint.
The scientists at Visikol are experts in 3D cell culture models which can effectively recapitulate the in vivo tumor environment as well as in 3D hepatocellular models. These models are an effective tool for the evaluation of cytotoxic effects of anti-cancer therapeutics or be used for identifying toxic compounds earlier in the drug discover process.
If you are interested in learning more about these techniques or any of the other many research opportunities at Visikol, please reach out to our team. We are always interested in working together with our clients as a team to develop customized assays to best suit their needs.