Visikol has added an additional ImageXpress® Micro Confocal High-Content Imaging System from Molecular Devices to its robust imaging capabilities and now has three high-content confocal systems, several fluorescent slide scanners, a Bruker MuVi SPIM Light Sheet microscope, and various other imagers. Just over two months since its acquisition by BICO, Visikol continues to grow its laboratory capacity, as well as its team. With another imager, Visikol will be better suited to aid researchers in their drug discovery efforts and is now able to support even larger drug discovery campaigns that leverage advanced high-content imaging.
The ImageXpress Micro Confocal system is a high-content imager capable of switching between widefield and confocal imaging and can capture whole organisms, thick tissues, 2D and 3D models, and cellular or intracellular events. The ImageXpress Micro Confocal system is also capable of taking high-quality images, creating multiple image models, customized image acquisition, and accelerated analysis speed.
"We are excited to add another Molecular Devices imager to our lab. As we continue to grow both our advanced cell culture and advanced imaging services, we  rely heavily on equipment like the ImageXpress to increase efficiency and improve the data that we provide our clients," said CEO Michael Johnson, PhD.
The ImageXpress Micro Confocal system will support Visikol's end-to-end 3D advanced cell culture services and provide the team with the ability to image both simple 2D monolayer models as well as advanced 3D cell culture models. As a company, Visikol prides itself on its ability to leverage advanced cell culture models to provide its clients with the most relevant in vitro assays to address their research questions. At the heart of these assays is the use of advanced imaging modalities, like those found in the ImageXpress high-content imaging portfolio, to generate enormous quantities of imaging data and turn it into actionable insights using Visikol's suite of image analysis software.
If you are interested in learning more about Visikol's imaging capabilities and working on your next high content assay, please click here to contact our team!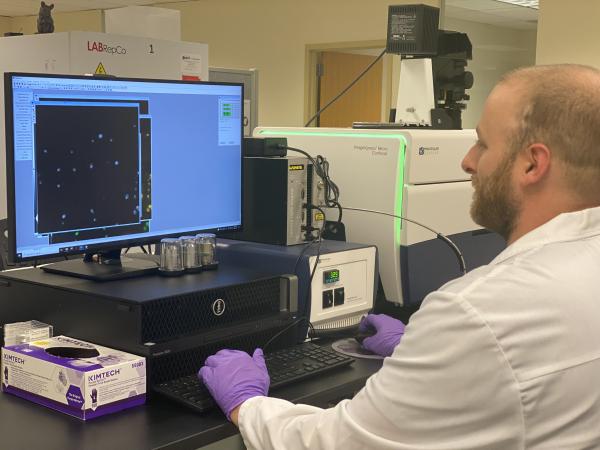 Visikol Associate Scientist Kevin Dennis using the ImageXpress® Micro Confocal High-Content Imaging System from from Molecular Devices.