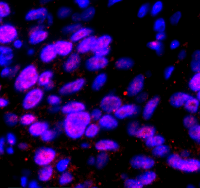 40X imaging of B-actin RNA with HCR RNA-FISH (red) and DAPI (blue)
Hampton, NJ – Visikol has announced that it is partnering with Molecular Instruments (MI) to offer HCR-based RNA FISH and IHC multiplex tissue imaging as a service, adding to the already robust multiplex imaging offering. Visikol provides pharmaceutical and biotech companies with advanced tissue imaging and advanced cell culture assays as a service and today counts all twenty of the top pharmaceutical companies as clients. This addition marks another expansion of the company's advanced tissue imaging portfolio and aligns with Visikol's mission of transforming tissues into actionable and quantitative insights for its clients.
"Combining the spatiotemporal patterns of gene expression with protein expression allows Visikol to provide an even greater deal of insights from a single slide, which is incredibly important for precious clinical and preclinical samples," described Visikol CEO Dr. Michael Johnson.
This new service has been piloted with numerous clients over the last few months and is now available to all Visikol's clients as a standalone service, or in combination with Visikol's in-house multiplex IHC approach. The data from the service will also be shared with customers through Visikol's BitSlide™ platform and can be analyzed using the company's extensive suite of digital pathology software. "The HCR-based approach for imaging gene expression is unique in its ease-of-use, as well as in its compatibility with multiplex IHC on the same slide. We have also been really impressed by its ability to be used in whole mount thick tissues and are very excited to start offering the technology through our advanced tissue imaging services," described Visikol CSO Dr. Tom Villani.
Going forward, Visikol looks to continue to work with MI on offering new services that take advantage of novel HCR-based products and is actively seeking to push the envelope on advanced tissue imaging. "HCR amplification technology is appreciated as one of the most significant innovations in bioimaging in several decades, as shown by our users' extensive publication record working across diverse targets and sample types including whole-mount model/non-model organisms and thin/thick tissue sections. As adoption of HCR-based imaging products grows, we are excited to offer Visikol's expertise to our users going forward," commented MI Head of Commercial Dr. Aneesh Acharya.
To learn more about this service click here.
For further information, please contact:
Michael Johnson, CEO, Visikol
Email: Michael.johnson@visikol.com
This information was submitted for publication, through the agency of the contact persons set out above,
on March 11, 2022, at 14:00am (CET).
About Visikol
Visikol is a contract research services company that is focused on accelerating the drug discovery and development process through providing its clients with advanced tissue imaging and advanced cell culture services. Today, Visikol counts all twenty of the top twenty pharmaceutical companies as clients and has been instrumental in dozens of drug discovery programs. The company provides end-to-end services that include 3D tissue imaging, multiplex tissue imaging, digital pathology, high content imaging, 2D cell culture assays, 3D cell culture assays and ex vivo tissue slice assays. Visikol's expertise lies in both transforming tissues into actionable insights as well as bridging the gap between in vitro assays and in vivo results through the use of bestin-class cell culture models. In addition to its services, Visikol sells a suite of tissue clearing reagents and kits as well as the HUREL® Micro Liver portfolio of primary hepatocyte liver models.
About Molecular Instruments
Molecular Instruments (MI) has the exclusive worldwide license to hybridization chain reaction (HCR) and is the sole developer of HCR-based imaging technologies and reagents. The HCR imaging platform ushers in a new era in which the building blocks of life are quantified at high resolution in the anatomical context of intact tissues. HCR RNA fluorescence in situ hybridization (HCR RNA-FISH) and immunohistochemistry (HCR IHC), enables simultaneous multiplexed, quantitative, high-resolution RNA and protein imaging in the anatomical context of intact tissues, with 1-step, isothermal, enzyme-free HCR signal amplification for all targets simultaneously. The MI team designs, manufactures, and ships reagents from its Los Angeles, CA headquarter to thousands of users around the world across academia, drug development, and diagnostics. The company is proud to stand resolutely by its mantra – "by scientists, for scientists."