Here at Visikol, we specialize in a diverse range of scientific applications, though our focus can be broken down into two main areas – advanced cell culture and advanced imaging. We offer a variety of 3D in vitro models – including but not limited to – liver fibrosis, hepatotoxicity, immune cell infiltration, and blood brain barrier assays. On the advanced imaging front, we are consistently working to provide our clients with more actionable insights to their tissues through our multiplex IF and IMC services. As the demand for multiplex services rises, we strive to streamline the quoting process by lowering barriers to obtaining data and optimizing turnaround time to better meet our clients' timelines. We are accomplishing this through the launch of our multiplex project designer webpage, which allows our clients to avoid the wait time associated with multiple meetings and long email chains. With the help of this new feature, your requests will transform from Statements of Work to active projects in the lab in no time.
You may be wondering how this process works – here we provide a simple guide for submitting your multiplex project request:
1.) Navigate to one of the Multiplex Project Designer locations on our website.

2.) Fill out your basic contact information so that we can reach out when your SOW is complete.
3.) Enter in details about your samples (number, type, fixative, control tissue provided, etc.).
If you are unsure about any of these details at the time of submission, we are happy to iron these out in the 15-minute meeting we host upon receipt of your request.

i) As a note, any information not matching the SOW may result in change order and price change.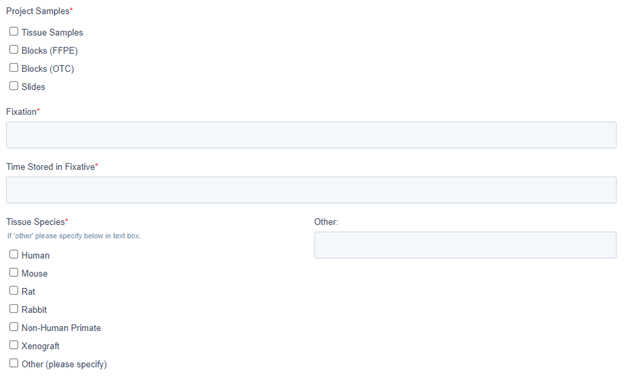 4.) Many of our clients ask if there can be more than one section per slide – and the answer is yes! We just ask that you indicate how many sections per slide and tissue size (or if it is a TMA) in the 'Additional Information' section.
Our standard section thickness is 5μm. If your sections are anything outside of this, please make note of this as well.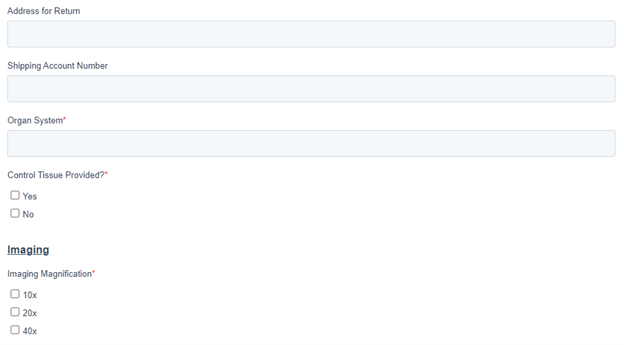 5.) As for image analysis, we offer standard cell counts and positivity for markers as a standard service. Our other available analysis services include area quantification, cell population analysis, spatial analysis, morphometric characterization, phenotypic analysis, bioinformatics, traditional machine learning and deep learning, and custom pipeline development.
Once you press "Submit," our team will be notified of your request and all the details provided above. We will get to work generating your SOW and reach out within 48 hours to set up a 15-minute meeting to review your project design together. Not only does this eliminate the need for an initial introductory meeting, but it also ensures we have all the information required to generate a fully comprehensive SOW for our clients. If you have a project in mind that you would like Visikol's help with, give our multiplex project designer a try!